The Best Stocks to Own If an Economic Depression Hits
By Eric Rogell, Weiss Group
Sean Brodrick — Senior Analyst at Weiss Group, which accurately predicted the stock market crashes of 1987, 2000, and 2008 as well as the more recent rise and fall of gold — now says a great global depression is likely.
Brodrick, who relies primarily on the study of economic cycles, says the first depression since the 1930s could begin in Europe, before spreading to Japan and the United States.
"Everything in nature moves in regular, rhythmic, predictable cycles," says Brodrick. "From the rising and setting of the sun and the phases of the moon … and from the rotation of the Earth and changing seasons to your own respiration and heartbeat."
And Brodrick maintains that economies, currencies and investment markets are no exception to this rule.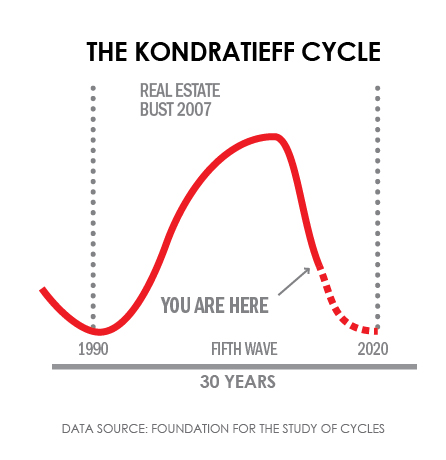 And what Brodrick sees in these cycles is disturbing to say the least: "Right now, these cycles are saying that the era in which governments could amass unpayable debts with impunity is coming to an end. And the cycle in which mankind pays the price for those debts will soon begin. With the recent increased volatility and uncertainty in the market, it shouldn't come as a surprise when I say that we are in for five years of chaos in the economy, the markets and in our business and personal lives."
Now, in "CONVERGENCE" — his newly published report, Brodrick points out that the proven Kondratieff wave is signaling an ever-weaker economy, soaring unemployment, skyrocketing interest rates, massive defaults on public and private debt and more.
Brodrick also discusses four additional economic cycles that are also entering their most dangerous phases.
MUST-READ: Startling Forecasts for 2019-2023
"All of these cycles," says Brodrick, "recently converged to form the first "supercycle" economists have seen since 1929."
Brodrick presents his evidence, in his new report, "CONVERGENCE" (available free when you enter your email address below).
In addition, Mr. Brodrick includes details on forecasts for the rest of 2019 and beyond, the steps he recommends you take to protect your investments and retirement, the four major opportunities investors will have to build considerable wealth as this supercycle courses through the global economy, and the 14 supercycle investments investors should be considering now.
"CONVERGENCE" is free and available on the Weiss Group website.
Simply enter your email below to instantly access this eye-opening report.