"Bad Boy" Elon Musk threatened to restart operations at his Tesla (Nasdaq: TSLA, Rated "D") factory in California earlier this month. It was in defiance of California's strict lockdown order to control the outbreak of COVID-19.
The outspoken billionaire — who calls all coronavirus lockdowns "fascist" — even threatened to move Tesla's headquarters to Texas or Nevada … until Alameda County authorities finally relented.
Apart from electric vehicles (EVs), COVID-19 has caused new car sales to go into the tank. Auto dealerships have laid off employees by the thousands.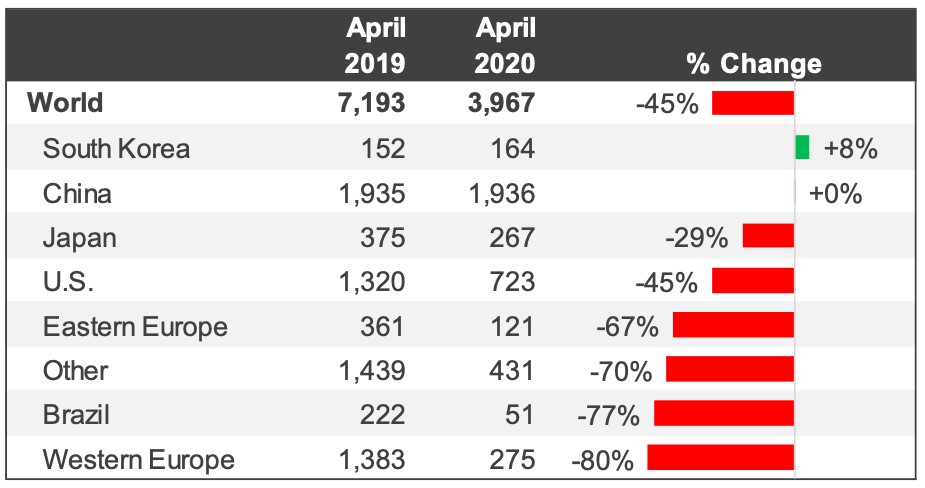 Source: LMC Automotive. Data shown is for estimated actual total sales (retail + fleet)
As with every downturn, some automakers will emerge stronger. But others won't make it through. It took nearly a decade, for instance, for European car manufacturers to recover from the 2008 Great Recession.
And even for those that survive, car travel will drastically change in a post-pandemic world … like less commuting as companies and workers discover the benefits of working from home.
And the industry was getting ready for a brutal 2020 … even before the coronavirus hit.
Traditional automakers will have no option but to unite … such as Volkswagen and Ford (NYSE: F, Rated "D"), which are developing autonomous driving software together. Even Toyota Motor (NYSE: TM, Rated "C") is smart enough not to do it alone.
Some companies may even need to formally merge.
Despite all this — EVs have shown remarkable resilience, despite plunging gasoline prices. While the traditional car market in the EU dropped 80% … the EV segment fell a meager 30%.
It seems consumers — after tasting environmentally-friendly vehicles — are happy to invest an extra buck or two in green purchases.
Maybe that's why Tesla stock spiked a whopping 49% in April.
Nevertheless, more folks are keeping their old (and not-so-old) clunkers. Because in a recession, consumers avoid buying new cars.
Older cars require more replacement parts. And more miles driven mean more accidents — a key factor in repair demand.
This keeps repair shops busy and parts suppliers bustling.
According to S&P Global Market Intelligence, auto parts retailers O'Reilly Automotive (Nasdaq: ORLY, Rated "C") and AutoZone (NYSE: AZO, Rated "C+") rose 28.3% and 20.6%, respectively, over the month of April. And aftermarket automotive parts firm LKQ Corp. (Nasdaq: LKQ, Rated "C-") flashed a hefty 27.5% increase.
Compare those performances with the Dow, which rose 11% last month.
All three stocks are options for investors given the current situation.
And even though the number of miles driven has been reduced by far more people working remotely, there's another factor that could push more driving …
Gasoline prices.
Filling your tank is a lot cheaper than it was entering the last recession. Oil was around $100 a barrel in the early stages of the 2008-2009 downturn. Today it's about one-third that amount.
It's also worth noting that miles driven increased markedly after oil prices slumped in 2014.
These three stocks should continue to do well … even if the economy sputters for good while.
All the best,
Sean