One Friday earlier this year, one of my upper left molars started to ache. A lot.
I spent the weekend taking over-the-counter pain meds.
When my dentist finally saw the growing abscess, he insisted I see an endodontist for a root canal.
I went to the endodontist (paying 100% of the bill, because insurance companies are run by pirates), who stuck long needles into the tender, inflamed insides of my mouth.
That was a real chuckle-fest, let me tell you.
"This is very bad," he said matter-of-factly.
In the end, the doctor gave up on the root canal, and told me to go see an oral surgeon and get the tooth removed.
The next day, I woke up, and my face had "elephant man"-worthy swelling. I was turning into the Great Pumpkin!
Trying not to panic, I called an oral surgeon. The fancier the titles get, by the way, the bigger a vacuum they use on your wallet.
"I'm going to remove the tooth," he said. "And it's going to be painful. Very painful." He explained that this kind of infection neutralized local anesthesia. Gulp.
Well, wouldn't you know it, they had to stick those same harpoon-sized needles in the same abused portion of my mouth. Again. Ouch!
When it came time to get that tooth out, he applied so much torque I thought he was working on a rusted lug-nut. Finally — FINALLY — it popped loose like a portion of Mt. Rushmore falling off.
You're wondering …
… what the heck does all this have to do with investing?
Well, do you know what I saw in my visit to two dentists and a surgeon? Just how crowded their waiting rooms are!
Sure, I'm in Florida, which is God's waiting room. But man, the medical industry is booming. And not just here.
All those doctors and nurses need some place to work out of, whether it's a hospital or office.
There's a great opportunity for investors here. And it's right under our feet … well, theirs.
Medical properties are inflating even faster than the rest of the real estate market, already one of the best-performing sectors for investors.
In a recent survey conducted by Deloitte, 97% of global investors intend to increase their investments in real estate in the next 18 months.
Why are investors rushing into real estate?
Because it remains one of the most opportunistic asset classes of 2019. This isn't just my opinion. 500 global asset managers expect to increase investments in real property.
It's one of the few sectors that still provides a healthy combination of income and growth … safely leveraged to produce solid returns.
Here are 3 reasons I believe real estate investors have many good years ahead:
Reason #1: The Real Estate Cycle
Economic cycles are my bread and butter. And historically, the real estate market cycle has an average duration of about 18 years. And we're only in the 11th.
Moreover, compared to the two previous cycles, the current one has been quite mild … with returns of only 9.7% per year.
That's compared to 18.7% in the 1970s and '80s expansion … and 15.8% in the 1990s and 2000s.
To reach the historical averages, real estate will need to keep rising for another 7 years … with sharper annual appreciation.
Reason #2: A Chance for Some Actual Income!
Interest rates have been abysmal for years, with the 10-year Treasury paying a measly 2%.
But there is real potential for real estate to generate strong returns and income for investors.
And while a decent property may produce a 10% leveraged cash-on-cash yield, comparable stock investments with similar risk profiles are unlikely to even come close to that.
Reason #3: Favorable Fundamentals
Real estate prices keep rising on the back of solid economic growth.
Demand outpaces new supply in most real estate sectors — allowing landlords to keep raising rents for apartments, office buildings, retail and industrial properties.
Plus, the vacancy rate is already historically low for most sectors. And the trend continues toward even lower rates … pushing property values ever higher.
You don't need to be a multibillion-dollar institution to invest in income-producing properties. Real Estate Investment Trusts — "REITs" — offer many advantages for the everyday investor:
Economies of scale — Large portfolios of real estate are cheaper to operate per unit than smaller portfolios. Why? Because larger portfolios have bargaining power with suppliers, marketers, tenants and management companies. They can also spread costs out over a much larger amount of rental revenue, resulting in much higher profit margins.
Safety through diversification — If one or two real estate investments encounter problems or underperform, large portfolios can absorb it quite easily whereas small portfolios cannot.
Easy liquidity — The ability to quickly buy and sell real assets through publicly traded entities makes for considerably less risk than with typical real asset investments.
Professional management — Owning real estate managed by professionals with experience — and skin in the game — offers a huge advantage over having to manage the properties yourself.
Transparency — REITs are bound by law to release quarterly, semi-annual, and/or annual reports on their business. These can provide tremendous insight into the performance of your real assets.
Trading at discounts to NAV — Thanks to the tendency for publicly-traded markets to fluctuate wildly with news (that's often entirely disconnected from the performance of the properties), it's not uncommon for REITs to trade at a discount. Savvy investors can achieve profits that exceed the already superior return for real assets.
REITs today are becoming a major allocation in the portfolios of professional investors: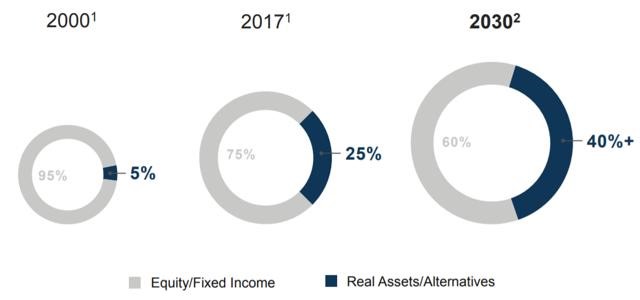 Image credit: Brookfield Asset Management
With more and more capital chasing a limited number of deals, I expect real estate to keep appreciating and outperforming stocks and bonds for decades.
A quick and easy way to gain access is via the iShares US Real Estate ETF (IYR). It aims to keep 90% of its assets in securities that are in the Dow Jones U.S. Real Estate Index.
The Best of the Best REITs
But my dental saga — and the money being spent hand-over-fist every single day in the healthcare industry — gave me an even better idea: What about a great medical REIT?
One I found owns hospitals, which are essential for emergencies, intensive care and higher-end (expensive) procedures.
Hospitals generate strong revenues for the leaseholder even if beds aren't filled. That's because hospital lease payments are contractual and can't be unilaterally changed.
I should also mention that healthcare is one of the most recession-proof industries in the world. People get sick in good economies and bad. They might be quick to cut back on vacations, but healthcare tends to be the last thing they cut.
My Wealth Megatrends subscribers are currently going for their second round of gains in a company that sits on more than $820 million in cash, and business is booming.
AND it's a bargain!
For more on this stock and others I like right now, check out a $9 trial subscription to Wealth Megatrends here.
All the best,
Sean