Before I get into these hot metals, I need to make sure you aren't missing out on one red-hot opportunity. My colleague, Jon Markman, has a market forecasting system with a 99.3% success rate.
That's unbelievable!
But you should believe it! He's turning that winning system onto the $12 TRILLION 5G market, and he has one company in mind projected to provide YEARS of windfall profits.
Join him now by clicking here.
Now, I'd like to turn your attention to another red-hot market … precious metals.
Gold is hot, and silver is hotter. Both metals are hitting multi-year highs. But in just the past couple weeks, there's a metal that is out-scorching both silver and gold. And it's just starting to heat up.
I'm talking about platinum. The past two weeks have seen gold climb 3% … silver climb 13.5% … and platinum climb 15.4%!
I expected silver to start outperforming gold. As I explained in Saturday's Wealth Wave, "silver is the drama queen of precious metals, always over-doing things on the upside and the downside." And since we're in a new bull market for metals, it's no surprise that silver is jumping higher, percentage-wise.
So why is platinum outperforming both? Again, it's a sign of a bull market. Investors are willing to be more speculative in a precious metals bull market.
And platinum was beaten down hard. It was beaten like a red-headed stepchild riding a rented mule. In other words, platinum became the kind of dirt-cheap investment that speculators are looking for.
Fundamentals Favor Higher Prices
In the short term, there is no platinum supply problem — mine production in South Africa, which accounts for 73% of global supply, is projected to rise this year by about 1% to 6.189 million ounces. The bullish force in this equation is demand. Specifically, demand from exchange-traded funds (ETFs).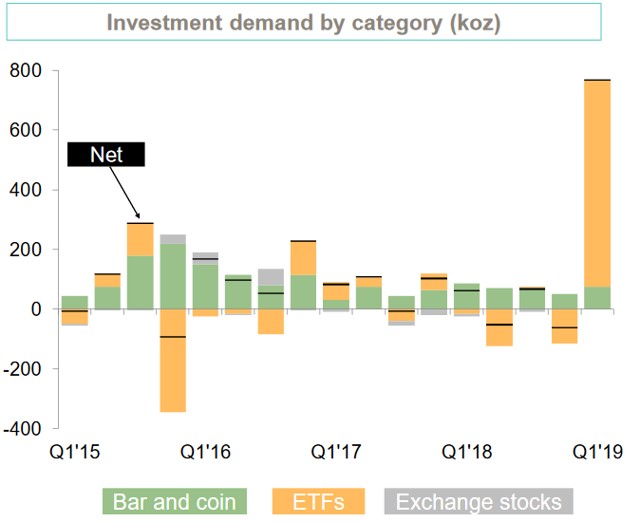 Source: Seeking Alpha/WPIC
Looking at the chart, you can see that ETF demand for platinum is at its strongest level in years. It hit 690,000 ounces in the first quarter of this year, according to the World Platinum Investment Council. That's a big chunk of total investment demand of 765,000 ounces.
And that equals 12% of total mine supply. Huge! Remember, platinum also has big demand in the automotive, jewelry and industrial sectors.
And so, as of April, Johnson Matthey forecast a 127,000-ounce platinum shortfall this year, after surpluses of 372,000 and 44,000 ounces in 2018 and 2017 respectively. The factor that Matthey singled out was ETF demand.
Beyond that, Matthey expects platinum demand for auto-catalysts in heavy-duty vehicles to increase sharply going forward. So, that should shift demand into higher gear.
So, we know the foot is on the accelerator of platinum prices, which closed Wednesday at $988.20. Where could the metal go from here? Here's another chart for you …
Sure, prices have rebounded from the 2019 low. But weekly prices just barely made it back into the recent trading range. There is support at $900, and overhead resistance at $1,030. I believe that platinum will test that big downtrend first, then resistance. And after that? I guess we'll see.
That kind of move makes the Aberdeen Standard Physical Platinum Shares ETF (NYSE: PPLT) a logical choice. Especially for investors who don't like the risk of individual stocks. This fund holds physical platinum. It has an expense ratio of 0.6%.
So, yes, you should definitely be making the most of the rally in gold and silver. Buy those pullbacks and ride the big trend higher. But don't ignore the potential in other metals either … metals like platinum. The rewards could be dazzling.
All the best
Sean