I think Santa might have a few extra goodies in his sleigh this year. But I know for a fact that Dr. Martin Weiss' 2020 Preview: Megatrends and Megaprofits definitely has valuable information you'll want to gift yourself this holiday season.
In it, Martin reveals the FOUR megatrends set to influence the next decade PLUS the top SEVEN picks we believe will best position you to profit, recommended by me and my colleagues Tony Sagami, Mike Larson and Jon Markman from our most expensive services.
If you haven't seen this urgent briefing by now, I recommend you click here to watch the full video while you can.
In the meantime, we'll have to wait for the rest of our holiday treats. And many analysts think we're going to get a nice rally. The stock market is itching for a Santa Claus rally. You can feel it. But I think you should keep an eye peeled for a rally of a different kind — a rally in gold.
Let me show you a chart of gold's action in 2019 …
You can see that the yellow metal was in the dumps as the year started. And it continued to grind along until May 31. Then … Bang! Zoom! Gold soared over $1,400.
That led to another, month-long consolidation. Then gold zoomed higher again. It didn't peak until $1,566 on Sept. 4.
Now, we've had MORE months of consolidation. What do you think happens next?
Folks, we've seen this movie. It's a re-run. Gold is primed for blast-off.
Now, the blast-off doesn't have to happen over Christmas. But it wouldn't surprise me. The markets are so thinly traded — with many traders being away — that low-volume environment is a gasoline-soaked launch pad for potential moves.
If gold does blast off, $1,566 becomes the obvious first target. But if you look at what happened earlier in the year, gold surged 5.7% in a short period of time before consolidating again. Such a move would bring gold to $1,655 very quickly.
And gold's eventual peak in September was 15% above the peak it made in February. That would give us a target of $1,800.
That's a nice round number, don't you think?
What would drive gold to those levels? The same things I've told you about before: Ultra-accommodative central banks. Geopolitical turmoil. Stresses on the global financial system. Central bank buying. I have a chart on that shows the surge in central bank buying in recent years …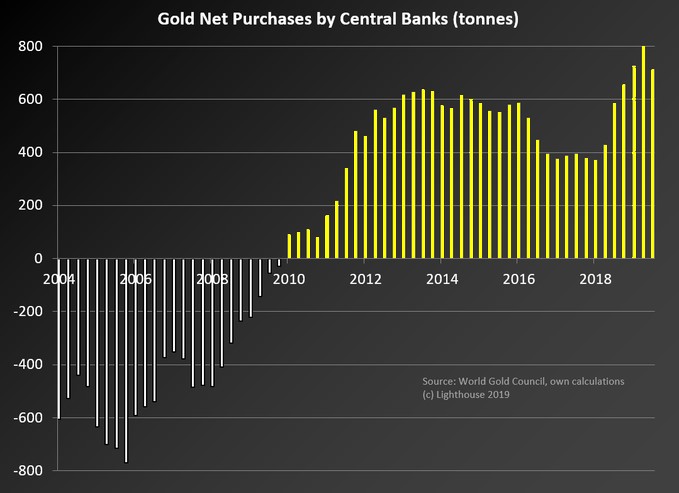 Source: World Gold Council/MacroTourist
In fact, while full-year numbers aren't in yet, 2019 is on track to be a 50-YEAR-HIGH in central banks' net gold purchases. Central banks are on track to buy a record 750 metric tons (24 million troy ounces) of gold this year. They could buy even more next year.
All told, central banks are gobbling up about 20% of supply coming out of the world's gold mines. Wow! That's a lot of metal.
So WHY do you suppose Central Banks want to buy so much gold?
I don't know. It's a surprise. Maybe a Christmas surprise.
Are You Getting Gold in Your Stocking?
One more thing before I go. If the jolly ol' elf forgets to bring you gold for Christmas and you want to buy yourself a present that shines with real wealth, where are you going to buy it?
One place I've come to trust is Asset Strategies International. It's a company that has been in the gold business, buying and selling, for 37 years.
When I was the New Orleans Investment Conference, I did a brief interview with Michael Checkan.
So, you can watch that for Michael's outlook on gold for 2020.
I agree with Michael that we'll see higher prices in 2020. The question is, when will the next rally start?
As I showed you, it wouldn't surprise me to see the rally start very soon. Maybe when Christmas bells are jingling.
All the best,
Sean