Congress is lighting a $1.9 trillion fuse on an economic boom, and the Fed is cheering it on. There's more stimulus to come. You'd better be positioning for a big economic bull run. Today, I'll tell you how.
The economy is not only already improving, it's doing better than Wall Street forecasts from the start of the year.
Here's some of the latest data …
•  Personal income grew by 10% between December and January.

•  At the same time, manufacturing expanded by nearly 10 percentage points year on year.

•  379,000 jobs were created in February. The consensus was for 200,000.

•  Congress is passing a $1.9 trillion COVID relief package. This includes $400 billion in one-time payments of $1,400 to many Americans, most of whom will spend it, boosting the economy even more.

•  The U.S. is currently administering 2 million COVID-19 vaccines per day. At this rate, President Biden's goal of administering 100 million vaccines by the end of April will be reached ahead of schedule. That means the U.S. economy can open up sooner.
Things look so good, the Federal Reserve Bank of Atlanta's much-watched GDPNow model now estimates annualized first-quarter GDP growth of 8.4%.
And it's not just the United States.
The Paris-based Organization for Economic Cooperation and Development (OECD) says it now expects global output to rise above pre-pandemic levels by mid-2021, and it credits the Biden stimulus for a lot of this.
The OECD raised its world growth forecast for 2021 to 5.6% from 4.2% and more than doubled its prediction for the U.S. to 6.5%.
The OECD is also looking for global economic growth to continue at 4% next year.
Meanwhile, the OECD expects China to grow at a 7.8% pace this year. Still, the U.S. will be one of the world's leading economies this year if these forecasts are right.
What That Means
What that means is that foreign money will probably flow into the U.S. looking for growth. That, in turn, could boost U.S. stocks.
The U.S. stock market disconnected from the real economy last year, as Fed stimulus mostly missed working people and instead flooded Wall Street.
The Biden stimulus is more focused on Main Street but select industries should still do well. Specifically, those tied to economic growth and inflation. Things like banks … energy … steel … basic materials.
Wait a dang minute! Inflation?! Yeah, we're seeing that, too. That is, unless you listen to the Fed.
Inflation Heats Up
The cost of U.S. consumer goods and services rose in February at the fastest pace in six months largely because of higher gas prices; longer-term, the core 12-month increase dipped to 1.3% from 1.4%. This is the number the Fed watches. The Fed says it's not raising rates until this rate goes well above 2%.
If you strip out food and energy, it's not so bad … but do you know anyone who can live without food and energy? In fact, headline CPI picked up to 1.7% from 1.4% on an annual basis. That puts inflation at a decade high!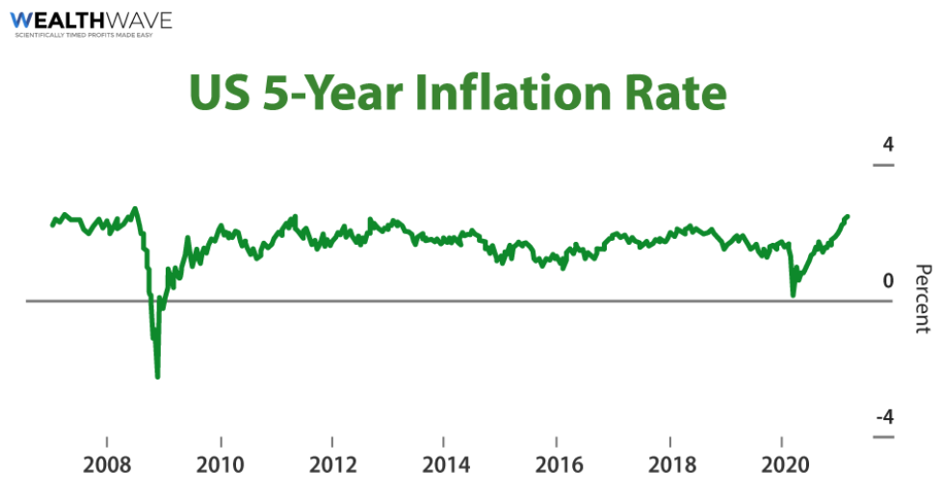 Source: Fred
The good news is inflation in an expansionary economy isn't bad. In fact, it's expected. As long as it remains mild — and as an old person who lived through the 1980s, I can tell you this IS mild — then we'll be okay.
And that means we should be investing to ride this boom.
I'm sending my subscribers a pick to play the next wave higher in stocks. I'll share one of them with you right now: Schnitzer Steel Industries, Inc. (Nasdaq: SCHN).
It's a steel manufacturer that's already riding the global economic rebound, and China's infrastructure stimulus. It should do even better when President Biden rolls out his infrastructure package. According to D.C.'s rumor mill, that package could be even bigger than the COVID relief package!
Schnitzer isn't waiting. It's taking off. In fact, it just pushed above overhead resistance and is breaking out to the upside.
With this kind of breakout, and riding an economic boom and infrastructure boom, this stock could go to $100 over the next year.
Now, my Gold & Silver Trader subscribers already own this stock. In fact, they were recently up 91%. So, anything more they make is gravy. I just think Schnitzer has a lot longer to run. I could also tell my paying subscribers to sell it at any time, if I see a BETTER opportunity.
Whatever you buy, do your own diligence. Make sure whatever you buy fits your budget, and your appetite for risk.
All the best,
Sean