Gold is set to double before year-end 2021, and silver could surge as much as 600% in that same time frame.
But did you know you can make around 10 times more in gold mining shares than in gold bullion? The time to start buying miners like this one is very, very near.
In my book, it's the most attractive gold stock on earth right now, and I name it in this free report.
Warning: I am taking this highly time-sensitive report offline at 11:59 PM Eastern time TONIGHT. And that's also when I'm closing the doors to my new trading service dedicated to getting richer in this potentially explosive new bull market for mining shares. For the name of the #1 mining stock and my full report, go here.
You see, right now, there's a big problem in the gold mining industry … one that can deliver big profits for investors.
And I have the charts to prove it to you.
But we'll get to the profits in a moment. First, let's talk about gold's problem:
Gold is a non-renewable resource.
And we've already found and mined the easy stuff. So, what's that mean for gold exploration?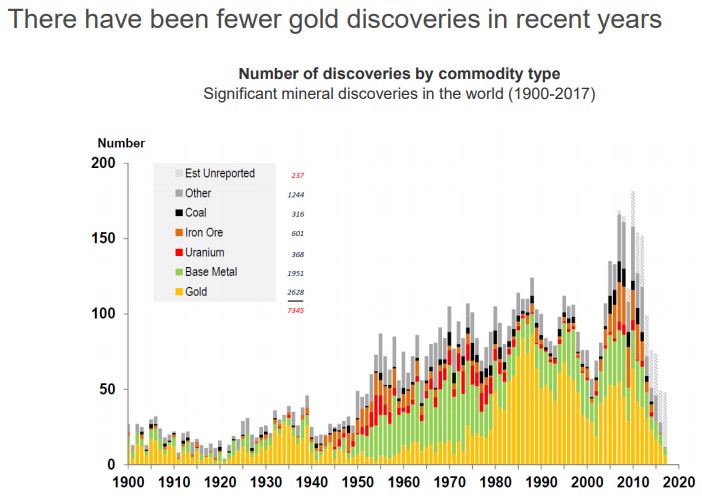 Source: Sprott
The fact is, from 2005 to 2015, more than 100 million ounces of gold were discovered annually. Over the last decade, this has dropped to an average of 30 million ounces per year. Last year, the figure was less than 5 million ounces of gold, a record low.
This is despite explorers allocating $54.3 billion to gold exploration in the decade through 2017. That's 60% higher than the $32.2 billion spent over the preceding 18 years.
Making matters worse, a discovery isn't what it used to be. Grades are going down. Companies are now mining gold that they used to drive their trucks over to get to the good stuff.
Why? Because the good stuff is already gone.
What's more, the length of time from discovery to producing gold from a mine has stretched out. In the '90s, the process took about seven years. Now, it's more like 20 years.
This is due to more regulation, local issues and the difficulties of bringing the new orebodies into production. Also, more gold is produced in countries with a higher political risk (wars and resource nationalism). And this percentage is rising.
And we know this lack of supply is not from lack of demand. Total demand for gold has increased 42% over the past decade.
And this means a massive problem for the major gold miners. They are having trouble replacing the gold they mine, as this chart form McKinsey & Co. shows …
This chart uses 2017 numbers, but if anything, things have gotten worse.
Big miners are very successful at removing gold from the ground. And because gold is a non-renewable asset, known reserves of major gold companies fell by 26% in the five-year period shown on the chart.
That means they have to make up that production somewhere.
3 Golden Tickets for
The Next Rocket Ride
The good news is, they can. And this is where your chance for profit comes in. Because the easiest way for big gold miners to make up for their falling reserves is to buy smaller gold companies.
Why should the big companies buy smaller companies? Because gold explorers are so undervalued, there is a 35% discount for buying ounces in the market compared to spending money on exploration.
That means the small companies are trading at a material discount to the larger companies.
And that means if you buy the RIGHT small companies, you can get some of that takeover cash.
So, what makes a good small company?
Higher Grade Deposits. The World Gold Council defines a high-quality underground mine as having a gold ore density between 8 and 10 grams per metric ton (g/t). A low-quality underground mine has a gold ore density of 1 to 4 g/t.
Open-pit mines can be lower grade, because open-pit mining is MUCH cheaper. Or it can be if it's done right. One g/t used to be the cutoff for an open pit, but I've seen lower brought into production.
The point is, don't get fixated on the size of the deposit (though that is important). Higher grade mines are more likely to be bought out, because a high grade can cover a whole bunch of sins.
Great Management. Wait a minute. We just want the explorer to sell the deposit. Why does management matter? Because of what happens BEFORE the deposit and/or company is sold.
Management with previous success is preferable. If it's not their first time at the rodeo, then they likely have the connections to get funding, develop the deposit properly and, most important, make the right deal.
Blue Sky. When big miners buy small miners, they aren't just buying the deposit the explorer has already defined. They're buying the company for hidden potential — the "blue sky" at the edge of the deposit. This is the secret sauce that will make the big companies pay up for the little companies.
There's more to it, but you get the idea. You can find many great buyout targets in the Global X Gold Explorers ETF (NYSE: GOEX). The GOEX is an excellent way to get exposure to the exploration space. But if you want real outperformance — and you can handle the risk — you'll want to buy individual stocks, not the index.
To be sure, you only want to buy these companies if you think the price of gold is going up. And I'm certain we're on the cusp of a rip-roaring rally. Why? One last chart for you …
Falling exploration results means there is going to be less gold production in the future. I told you it takes 20 years to put a mine in business nowadays. We know what deposits are out there. We know what's coming online. This is about as accurate a prediction of future production as you can get.
Lower supply of something usually means higher prices. And as supply drops, we're going to see gold push higher, through $2,000 an ounce, $3,000 an ounce, and beyond.
Those exploration companies are golden tickets for the next rocket ride. Be sure to get yours before blast-off.
All the best,
Sean