It took a bunch of rogue Russians hacking into a gasoline pipeline to reveal one of the biggest growth markets of 2021 and beyond: cybersecurity. And a pipeline of fat potential profits is there for the picking for investors who seize this opportunity.
We've had plenty of other warnings over the years, as hackers from Russia, China, North Korea and others — some backed by malicious governments, some independent — rip roughshod through global data systems.
The biggest hack discovered so far was last year, in the midst of the pandemic. A Texas-based company called SolarWinds Corp. (NYSE: SWI) made a software update. Little did it know, its update was hijacked by hackers believed to be directed by the Russian intelligence service, the SVR. The hackers slipped vicious hidden code into that routine software update, turning it into a vehicle for a massive cyberattack against America.
That's because SolarWinds' customers included the upper echelons of the U.S. government, including the Pentagon, the Department of Homeland Security and the Department of the Treasury.
And it wasn't just government agencies. 18,000 customers were hacked in all, including Fortune 500 companies like Microsoft Corp. (Nasdaq: MSFT), Cisco Systems, Inc. (Nasdaq: CSCO) and Intel Corp. (Nasdaq: INTC).
This hack went undetected for months. How much information was stolen? It's impossible to tell.
More recently, the Colonial Pipeline was hacked by a criminal group calling themselves "DarkSide," also operating out of Russia. The hackers locked files in Colonial's IT system, effectively shutting it down. Colonial was losing $3 million a day every day the pipeline was shut down. So, when the DarkSide hackers offered to fix their attack for a ransom of $5 million, you can see why Colonial took that deal.
And before you say that the folks at Colonial were slack, you should know that the company, which operates the biggest U.S fuel pipeline, has increased overall spending on information technology by 50% since 2017.
Obviously, that wasn't enough. Colonial is probably going to spend more. And it's not alone …
The total size of the cybersecurity market last year was an estimated $162.5 billion. It's forecasted to grow an average of 12.5% per year to $418.3 billion by 2028, according to GlobeNewswire. And this market could become a lot bigger if we continue to see more compromising hacks.
The amount of cyberattacks and hacks has increased tremendously over the past decade, and the hackers are getting away with larger heists.
The chart below shows that the number of attacks where victims lost over $1 million has increased fivefold over a decade prior.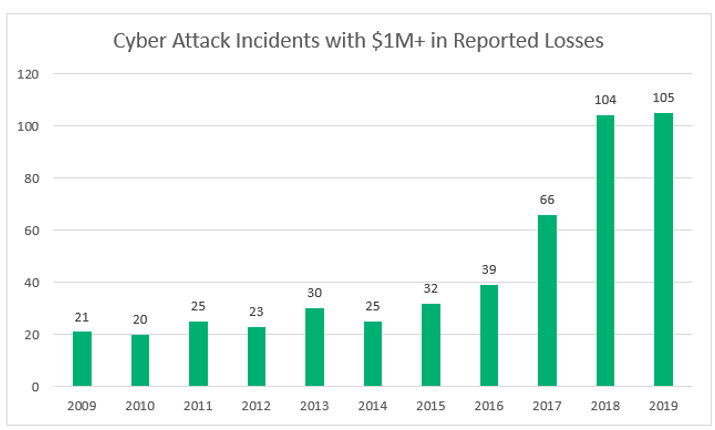 Source: Sectigo
Holy moly!
A report prepared by the Institute for Security and Technology said ransomware victims paid $350 million in 2020, a 311% increase over the prior year. The average payment in 2020 was $312,493.
While Colonial is grabbing the headlines, there have been other major ransomware attacks in recent weeks. Other victims include the Washington D.C. metro police department and a major hospital in San Diego.
It is very likely that the success of the Colonial attack and others will lead to more attacks.
Small energy companies spend about 0.25% of their revenue on security, compared to 0.75% for big electric companies. Big tech companies and banks spend about 1.5%. Due to the rising risk of attacks, it's likely that all types of companies will spend more going forward.
Select cybersecurity companies will likely do very well going forward. You could own a bundle of them by buying the FirstTrust NASDAQ Cybersecurity ETF (Nasdaq: CIBR).
This exchange-traded fund (ETF) tracks the Nasdaq CTA Cyber Security Index, which holds 40 companies. Its top three holdings include Cisco, Accenture Plc (NYSE: ACN) and CrowdStrike Holdings, Inc. (Nasdaq: CRWD).
Here's a weekly chart of CIBR …
You can see that CIBR is in a big uptrend, though it's pulled back from highs hit earlier this year. That pullback is a buying opportunity for savvy investors. With prices currently trading near $42, I think CIBR is going to at least $72 a share over the next year.
So, you can make a nice gain — and spit in the eye of hackers from Russia and elsewhere. You can bet they DON'T want Americans to invest more in cybersecurity.
Do your own due diligence before buying anything. And if you want the potentially bigger reward of individual cyber stocks, my Wealth Megatrend subscribers already own Cisco Systems, and I'm making another recommendation in the next issue. You can find out more about Wealth Megatrends here.
The scarier the times, the bigger the profit potential. Stay cyber-safe, good luck to us all, and good trades.
All the best,
Sean