Michael Kevane, an economics professor in San Jose, Calif., parked his 2005 Prius as usual one evening in January. The next morning, his son Elliot went to start up the car. "It sounded like a jackhammer," said Mr. Kevane. "The whole block could hear the noise."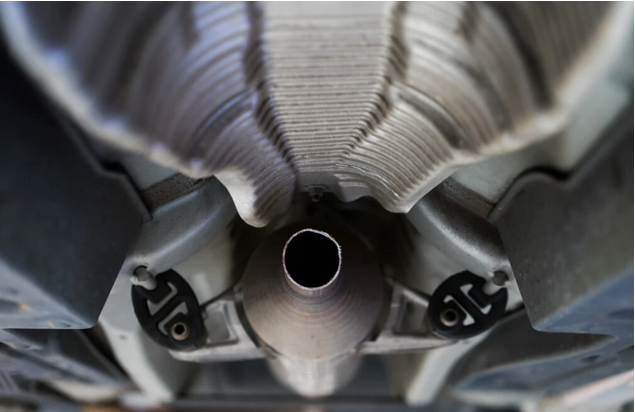 Source: New York Times
Michael Kevane's catalytic converter was cut from under his car.
Two days later, Kevane's sister, who lives in Los Angeles, had the catalytic converter stolen from underneath her 2003 Honda Accord. "This can't be a coincidence," Mr. Kevane said.
It wasn't.
Thieves with hacksaws are slithering under cars coast to coast, swiping the devices left and right.
Why?
To get at the precious metals the gadgets contain.
Jerry Turriff, proprietor of Jerry's Certified Service and Towing in Milwaukee, has resorted to deflating the tires of some of his customers' vehicles to deter thieves from crawling under them.
(Stealing converters can be risky for thieves, too. Last year, a Kansas City, Mo. man died after a Prius crushed him as he was removing the converter.)
The global trend toward stricter tailpipe emissions has led to a surge in demand for higher-performance catalytic converters … and the metals that make them work.
That's lit a fire under platinum, palladium and rhodium prices, which have soared to record highs.
Five years ago, for instance, the price of palladium was only $500 an ounce. Since then, it's QUINTUPLED … hitting a record $2,875 an ounce last year.
Rhodium prices, meanwhile, have skyrocketed more than 3,000% … from around $640 an ounce five years ago to a breathtaking $21,900 an ounce this year. That's 12 times the price of gold!
Rhodium's special role in newer converters is that it reduces nitrogen oxide emissions. And "we've had a very steep step-up" in nitrogen oxide rules globally, according to Wilma Swarts, director of platinum group metals at the London-based precious metals research consulting firm Metals Focus.
Palladium, meanwhile, is also used in jewelry, dentistry, surgical instruments and electronics. It's also a key component in hydrogen fuel cells which are garnering more widespread adoption.
All while SUPPLY remains tight …
First, due to the effects of the pandemic on mining in South Africa — a major producer of all three metals. Plus, the country's mines have long had to deal with unreliable electricity and labor strife.
And second, because of tense relations with Russia … the palladium capital of the world. When the U.S. imposed sanctions on Russia in April 2018, for example, the palladium spot price jumped 6% overnight.
Couple this with spiking DEMAND …
"If more people start to resume some level of travel, the transportation mode most likely to be utilized will be by car," says Ed Egilinsky, managing director and head of alternatives at Direxion. A "reopening of the global economy will be a key driver to that taking shape, and potentially lead to a significant spike in auto sales."
Plus, the economies of China and India continue to develop.
And to comply with new standards, all new cars in China need to be equipped with "good-quality catalytic converters," says Steven Dunn, head of exchange-traded funds at Aberdeen Standard Investments. And that reportedly means around 30% more palladium per vehicle, he says. "As countries continue to tighten emission standards, palladium stands to be a beneficiary."
One wild card is the adoption of electric vehicles (EVs), which don't have catalytic converters and require very little of the metal. Escalating costs for these metals have gotten so extreme, says Max Layton, a London-based commodity analyst at Citi, it's "putting pressure on automakers to shift to battery electric vehicles as quickly as possible."
But for now — due to EVs' higher cost and limited range — gasoline-powered and hybrid vehicles still predominate.
Another factor supporting demand is the Paris Climate Accord, which the Biden administration has rejoined. That should further increase demand for elements critical to pollution-control.
For all these reasons, Chris Blasi, president and chairman at Neptune Global, expects to see palladium trade as high as $3,000 this year.
The skyrocketing value of these metals hasn't just caught the attention of thieves … investors want a piece of the action too.
While rhodium bullion IS available, its cost — at roughly $25,000 for a one-ounce bar — makes it off limits for most investors.
Palladium bullion, however, is a bit more affordable … at roughly $2,400 for one-ounce coins and bars.
If you don't want to buy or store the physical metal yourself, the Aberdeen Standard Physical Palladium Shares ETF (NYSE: PALL) invests in palladium bullion that it stores in secure vaults.
Or you may want to invest in the shares of palladium miners. Some options include:
Platinum Group Metals Ltd. (NYSE: PLG) acquires, explores and develops platinum and palladium properties, although it also searches for rhodium, gold, ruthenium, iridium, copper and nickel. The company holds 50.02% interest in the Waterberg project located on the North Limb of the Western Bushveld complex in South Africa. It also develops next-generation battery technology using platinum and palladium.
Anglo American Platinum Ltd. (OTCPK: ANGPY) is the world's leading primary producer of Platinum Group Metals (PGMs), with assets across southern Africa, South America, Australia, Canada and even Finland. They provide a complete resource-to-market service with a range of mined, recycled and traded products.
Finally, Moscow-based Public Joint Stock Co. Mining and Metallurgical Co. Norilsk Nickel (OTCPK: NILSY) operates as a metals and mining company in Europe, Asia, North and South America, Russia and the CIS countries. Its products include nickel, palladium, copper, platinum, cobalt, rhodium, iridium, ruthenium, silver, gold, selenium, tellurium, sulfur, sodium sulfate and sodium chloride. It's also involved in property and equipment rental, gas extraction and transportation, electricity production and distribution, river shipping and airport businesses.
Catch a ride on the platinum group metals, my friend. They're set to do quite well for the foreseeable future!
All the best,
Sean