Two centuries ago, people in New England were harvesting a resource for practically nothing and selling it at a fat profit in such distant locales as Calcutta, Martinique and Havana.
I'm talking about water — the ultimate liquid asset.
As the wheel of history turns around, it may be time to start harvesting and selling that resource again.
If you believe, correctly, that gold, oil and wheat are some of the most valuable commodities on Earth, think about water for a moment!
Today, I want to tell you more about this valuable natural resource … its colorful history as an investment vehicle … and how you can capitalize on what just may turn out to be the most lucrative commodity of the 21st Century.
From Financial Ruin and Debtors' Prison
To Fabulous Fortune and a Place in History
I learned about the ice business in a fascinating book — "The Frozen Water Trade" by Gavin Weightman. It's a story of one man, Frederic Tudor, and his obsessive pursuit of what his friends and even family viewed as sheer lunacy.
Tudor was certain that he could sell Massachusetts ice in the tropics at a high profit. He eventually succeeded … but endured financial ruin, sea-going catastrophes, multiple trips to debtors' prison and even a mental breakdown on his way to a fabulous fortune and a place in history.
In the early 1800s, the harvest was what sailors in the trade called "frozen water" — more commonly known as ice.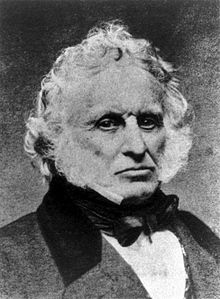 "Ice King" Frederic Tudor
The ice trade grew into such a thriving business that battles were fought in court over who owned the ice in winter-locked ponds and rivers. The ice was harvested by horse-drawn plows and men wielding chisels, often by the light of the moon (the colder the temperature, the better the ice harvest).
Properly stored, winter ice could last through a long sea voyage into tropical climates and all summer long. In fact, under the right conditions, ice could last for years.
Some interesting facts …
• Transplanted British, French and Spanish colonists in the tropics were the first to put ice cubes in their drinks. Next time you have a cocktail on the rocks, hoist a toast to those hardy pioneers.

• It wasn't until the frozen water trade began that the idea of ice boxes came about … an idea that made its way into every American household and continues with today's refrigerator.

• Though forgotten today, icemen made deliveries in parts of the United States until the 1950s. My friend Dennis Dunn, who was born in Detroit in 1946, remembers well the horse-drawn ice wagon making deliveries on his street. Refrigeration was invented in the 1800s, but only became common in American homes with municipal electrification in the 1920s and '30s.  Still, many stubborn consumers clung to their "ice boxes."
Ice from New England was sold in Calcutta for 50 years till eventually electrification killed the frozen water trade.
But, once again …
The Wheels of History Are Turning!
And once again, a resource that many take for granted — water — is becoming very valuable.
Every year, California is wracked by droughts. Horrible fires, made worse by the drought, turn large sections of that state into blackened ash.
Other parts of America's Southwest are also facing long-term water shortages. Arizona, New Mexico and other states have too many people and a "structural deficit" of water caused by the desert climate.
In other parts of the world, it's worse. Cape Town, South Africa, is facing "Day Zero" — when the entire city could run dry. And, in India, nearly 163 million people lack access to clean water.
It seems like water is once again going to become a very profitable commodity. After all, water cannot be duplicated and has no substitute. What's more, demand for water is inelastic — as prices rise, consumption does not decrease.
In short, as water prices rise, there is a mighty river of profits, just waiting to be tapped …
Aim for a Gusher of Profits in the
Looming Worldwide Water Shortage
There are several ways you could invest in water.
One idea would be the Invesco Water Resources ETF (Nasdaq: PHO). It invests in a wide portfolio of companies that are leveraged to water.  Holdings include Ecolab Inc. (NYSE: ECL), American Water Works Co. Inc. (NYSE: AWK) and Danaher Corp. (NYSE: DHR). This ETF has a total expense ratio of 0.60%.
Or you can do your own research into individual stocks. Just keep in mind that timing is everything. You'll want to pick when to enter carefully.
Bottom line: Just like oil and gold, water is a commodity that should see steady price acceleration ahead. If you're thirsty for profits, consider investing in good ol' H2O.
All the best,
Sean