When fear and panic are in the air, you rush to protect your loved ones. And God forbid your kids don't have enough toilet paper to wipe their lovable behinds.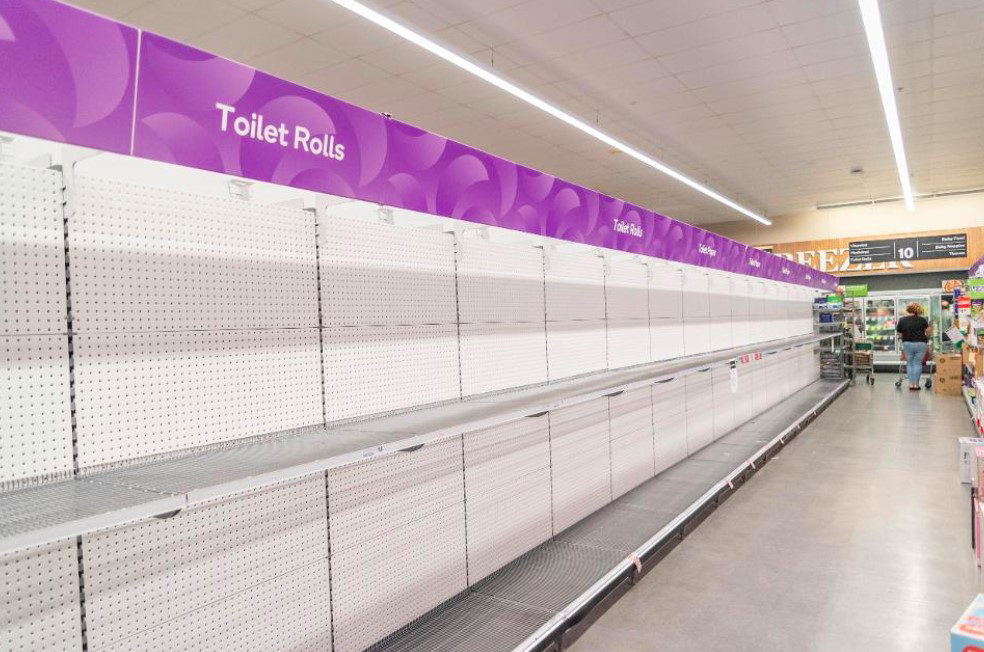 Source: Forbes
The public would benefit from knowing more about supply chains. It might just prevent the next case of panic shopping.
Fears of toilet-paper shortages were baseless, as this essential is mainly produced domestically and production is quite stable.
But it was all understandable. Because for the first time in modern manufacturing history, demand, supply and labor are being impacted globally … at the same time.
Plus, supply chains have mostly moved abroad over the last few decades … with a significant portion of imports coming from China, the "world's factory."
Mass migration of manufacturing to China has severely eroded U.S. domestic capabilities, exposing the U.S. to serious risk in a time of national crisis.
Case in point: Acute shortages of respirators and face masks revealed that far-flung sourcing of goods is unfit to deal with a prolonged pandemic … or any other long-lasting crisis.
I applaud General Motors Company (NYSE: GM, Rated "C-") and Ford Motor Company (NYSE: F, Rated "D") for reworking assets to make ventilators. It's a difficult transition, requiring new supply chains for design, parts and equipment … and new capabilities to satisfy regulations.
I also laud clothing retailer Brooks Brothers, which made the shift from shirts to masks and gowns.
But one of the biggest elephants exposed by this coronavirus is critical medicine's supply chain.
Many prescription and over-the-counter drugs previously made in the USA are now either made in China … or rely on Chinese factories for ingredients.
Not only are these foreign-made active pharmaceutical ingredients (APIs) made using slower, less efficient processes … and often fail to maintain safety and quality-control standards … their supply chain is particularly vulnerable to disruptions.
Shipping to the U.S. takes time that simply isn't available during pandemics. And when countries close borders, access to these critical materials is threatened.
"The COVID-19 pandemic has reminded us how health threats or other sources of instability can threaten America's medical supply chains, potentially endangering Americans' health," said Health and Human Services Secretary Alex Azar.
The solution?
Bring back manufacturing to the U.S. … and fix the broken supply chains.
President Trump's goal is to "produce everything America needs for ourselves and then export to the world, and that includes medicines."
Lawmakers propose a $25 billion incentive to ensure products are sourced domestically. Tax incentives are also being discussed.
This doesn't mean global trade should be abandoned. It's helped pull more than a billion people out of abject poverty and lowered prices of consumer goods worldwide.
But as COVID-19 shows, the system can be fragile, and in times of crisis it doesn't work for every product and service.
With a staggering 40 million Americans filing for unemployment benefits since the COVID-19 pandemic struck, domestic manufacturing and a fully functioning supply chain will help save jobs and provide long-term employment … while protecting the citizenry from emerging health threats. Strengthening national security is a nice side benefit.
"Grin inducer" Align Technology Inc. (Nasdaq: ALGN, Rated "C") is worth your attention in this space. Its business is building the better smiles folks crave.
Most recent financial results showed record revenue … continued explosive revenue growth (over 30%) … and a profit margin of greater than 20%.
It's ranked as the No. 1 U.S. manufacturer by IndustryWeek. And it's up a stunning 95% since March.
All the best,
Sean
P.S. This coming Wednesday, June 3, I'm hosting an urgent event, Wild Gold Profits in a World Gone Mad.
The biggest gold boom in 100 years is coming. In this timely FREE video briefing, I'll reveal why, and how it'll unlock opportunities to profit as much as 1,000%.