Urgent: Use this link to attend our cannabis investor briefing.
It will soon go off line permanently.
If you're using Thanksgiving week to make your Christmas list early, you might want to ask Santa to put pot stocks in your stocking.
They're enjoying a great run.
And they're set up to have an even better 2021.
The numbers tell the story: Cannabis is an industry where you can see triple-digit percentage gains in sales year after year.
We'll use the four biggest U.S. multi-state operators (MSOs) as examples and look at their third-quarter results.
Cresco Labs Inc. (OTCQX: CRLBF) saw its revenue jump an astounding 323.5% year-over-year to $153.3 million.
Curaleaf Holdings, Inc. (OTCQX: CURLF) reported that its earnings rose 195.1% year-over-year to $182.41 million.
Trulieve Cannabis Corp (OTCQX: TCNNF) reported its revenue rose 92.8% to 136.3 million.
Green Thumb Industries Inc. (OTCQX: GTBIF) saw its revenue jump 131.1% year-over-year to $157.1 million.
U.S. cannabis companies are called multi-state operators because they build separate businesses in each state. They have to do that, because marijuana is still illegal on the federal level. Imagine what those sales figures would look like if Big Government wasn't dragging on the growth of the industry.
Could we see federal legalization very soon? Yes, and it will be rocket fuel for pot stocks.
Now, the naysayers will point out that total sales by cannabis companies are piddly compared to, say, leading tech companies. But it's the GROWTH that investors are looking at. Heck, Cresco Labs wasn't even a public company at the beginning of 2018.
As sales boom, these companies are seeing earnings zoom. Some aren't making money yet. But with a bull market in weed, they're getting closer to earnings faster than even true believers thought possible.
It's not just year-over-year sales. Compared to the second quarter, third-quarter sales among the big four rose an aggregate 39%!
So Why Will 2020 Be Even Better?
Set federal legalization aside (for now). A whole bunch of states just legalized marijuana at the ballot box.
A total of 15 states have now legalized adult-use, recreational marijuana. Add in those states that allow medical marijuana use, and that's a total of 36 states with some form of legal marijuana.
That covers 70% of the U.S. population.
Huge, right? But it's not the only reason.
Another is that cannabis is still a fledgling industry. Producers are finding all sorts of ways to boost consumer engagement.
This year, expect to see more gummies, beverages, chocolates and other yummies at your local dispensary.
All this is driving U.S. cannabis sales higher. This year, legal cannabis is expected to outsell energy drinks and whiskey and even run hot on the heels of bottled water.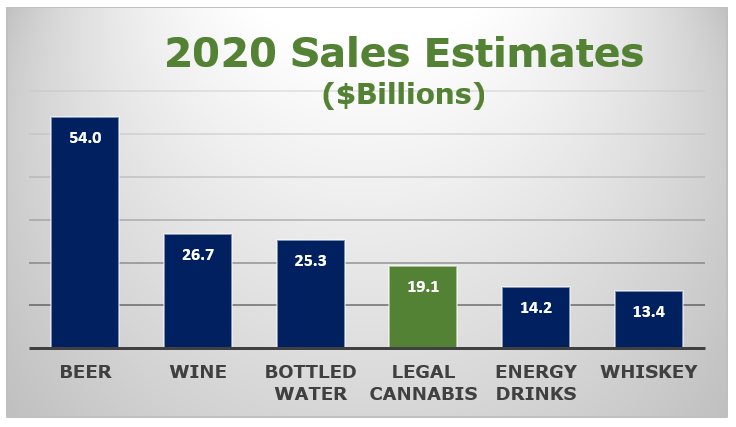 Source: New Frontier Data
But that's just the start. Cannabis is becoming more of a mainstream product.
Next year, according to analysts at New Frontier Data, the legal U.S. cannabis market could hit $24.33 billion. And by 2022, marijuana should pass both bottled water and wine to rise to sales of $28.39 billion per year.
Importantly, these projections are based solely on the state markets that already had legal medical and/or recreational marijuana as of August.
So, the projection — currently at a compound annual growth rate of 18% per year — could accelerate as more states legalize marijuana on the state level.
And guess what!
More states ARE going to legalize in 2021!
New York for sure. The Empire State is planning on legalizing by April, according to the governor's office.
Other states that could jump aboard the bandwagon include Connecticut, Maryland, Pennsylvania and New Mexico.
Power Up with Pot Stocks
How can you play this? Well, I keep pounding the table about two ETFS:
The ETFMG Alternative Harvest ETF (NYSE: MJ) and
The AdvisorShares Pure Cannabis ETF (NYSE: YOLO).
If you bought them on my previous mentions, you'd be happy. Or you could drill down and buy individual stocks.
However, be aware that not all pot stocks are created equal.
This is why we've invested a ton of money to develop the Weiss Cannabis Stock Rankings.
And man oh man, has it paid off!!
We rank over 100 cannabis-related stocks based on their upside profit potential, downside risk, liquidity and other factors.
We invest strictly in the stocks at the very top of our rankings. If a stock falls below the top tier, we rotate it out. As another stock rises to the top, we rotate it in.
And the historical data shows that applying this strategy consistently could have turned an initial $30,000 investment into $1.4 million.
Plus, after the first two years, it could have given you the opportunity to pull out an average of $20,000 in spendable cash per month and STILL wind up with a nest egg of $1.4 million.
Of course, no one can predict the future with precision. But right now, I see a very similar opportunity unfolding.
For the full scoop, watch our Urgent Cannabis Investor Briefing. (If you've already started watching, it will give you the option to resume or restart.)
Just bear in mind that it will soon go offline permanently, and this opportunity will be gone for good.
So, I suggest you watch our briefing now while you still can.
It's a half-hour investment of your time that could reward you handsomely for years to come.
All the best,
Sean